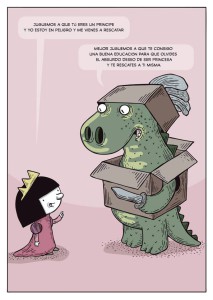 I'm glad to collaborate with Puentes Agency representing for the italian market some of the most interesting illustrators from Chile: Alberto Montt, Catalina Bu, Paloma Valdivia.
ITALIAN RIGHTS AVAILABLE
Alberto Montt
Alberto Montt studied plastic arts and graphic design. Since 2000 he works as an independent illustrator for several publishing houses, advertising agencies, and printed media from Colombia, Argentina, Venezuela, Peru, Chile, and Spain. He has illustrated almost 35 books since 2007 and is constantly publishing cartoons in his blog called Dosis Diarias (dosisdiarias.com), awarded by the Deutsche Welle for being 2011's best blog in Spanish, registering almost 80,000 visits a day. Several compilation books featuring the work from his blog have been published with the same dose of humor. He has also illustrated an immense number of books for children and Chilean classics, like the epic poem La Araucana, written in the 16th century by Alonso de Ercilla.
Works:
En dosis diaria
Achiote
Dino&Lau (project)
Look inside the book - En dosis diaria
Catalina Bu
Catalina Bustos (a.k.a Catalina Bu) is a freelance illustrator, and the author of Diary of a Loner.   Besides consolidating her work by collaborating with different brands and local magazines, she's dedicated to editorial illustration. She illustrated "Fat Cats", the book of Jani Dueñas (2012, Editorial Planeta), and in 2013 she was part of the compilatory book "Illustration the chilean way", edited by Plop! Gallery and Ocho Libros, released in the 2nd International Festival of Illustration, with an exhibition in Centro Cultural Palacio la Moneda.
Works:
Diario de un solo
Diario de un solo nº2
Look inside the book - Diario de un solo
Paloma Valdivia
Paloma Valdivia studied graphic design in Santiago de Chile and illustration in Barcelona. She has illustrated more then twenty children's books.
Works:
Sin palabras – Diario de un embarazo
Look inside the book - Sin palabras diario de un embarazo